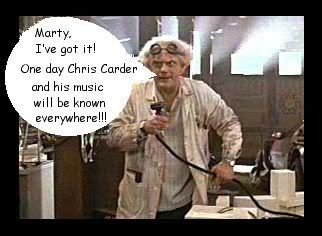 Back to the Future
some time back I posted a letter to myself in the future
on FutureMe.org
[this post]
and guess what? here it
is:
Dear FutureMe Chris Carder, ...check this out
Neat!
Speaking of the Future
Here is where you can find news
about my upcoming shows:
Chris Carder Tours
alternately
Upcoming shows, missions, gigs, etc. can
be found at
my carder myspace artist page
(psst. if u have a myspace page u can now add some
songs from Chris Carder's latest release, "TRUST"
).
and alternatively ;-)
You can see my gigs listed under
"shows" in a calander format or list
@ project opus
(
still need to enter these - but they'll be there
)
fotos from TRUST
While you wait for my dates to be added to
PO
, there
are some pictures from
"The Trust Sessions"
up there w/
myself, mac powell, brad avery, david carr, shawn lewis,
scott klopfenstein, pat malone, dave clo, etc. [stop by - have a look]
Buy TRUST online
Again, TRUST is available online - avoid the rush, buy them in bulk
on:
my music page
:-)
Guestbook
Stop by and post a "howdy" or "hello" on my new guestbook:
christophercarder.com
(
see guestbook link at top of page
)
t00-m0ch,
Chris
christophercarder.com
tags:
future music
FutureMe
news
upcoming shows
shows
tour
chris carder
music
listing
christian music
booking
pics
photos
recording session
latest release
concert
myspace
calander
online music
mail order
guestbook
mp3 downloads
of classic carder music:
$1.00
Chris Carder's TRUST: $15.00 (
online
) (
via mail
)